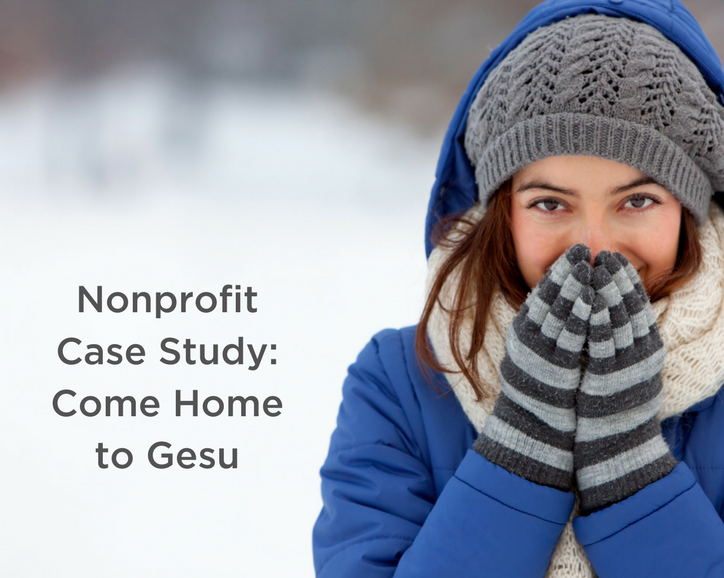 Like most churches these days, Gesu Roman Catholic Parish was noticing a declining overall attendance trend. Church officials thought back to a few decades ago, when another local parish was able to reverse a more serious decline by running a marketing campaign. In that instance, the struggling parish asked parishioners to "come home" to their church.
Hoping to boost turnout at its 2016 Christmastime masses, Gesu asked The Creative Block to develop a similarly themed campaign. Our challenge was twofold: Gesu's limited budget was barely enough to pay for a single newspaper ad, and we had just four weeks to work with.
We created a Facebook advertisement campaign featuring the message, "Come home to Gesu." We wrote and designed four groups of Facebook ads (16 ads total)—each targeting a different age demographic—to run from December 1 through December 24.
Then we created standalone landing pages for each group of ads listing mass schedules and age-targeted messaging. Each landing page had its own URL, images, and color scheme in keeping with the corresponding ads. View the campaign here.
The promotion generated positive buzz among Gesu members and produced the following results:
Facebook ad dollars spent: $1,000

People reached: 52,784 (most people saw multiple ads)

Click-throughs: 3,736 (2.41 percent)

Cost per click: $0.27
Best of all, Gesu's pews were full for its Christmas masses.
Facebook advertising is a highly cost-effective way to reach a targeted audience. If you're not utilizing it, your marketing doesn't have a prayer.