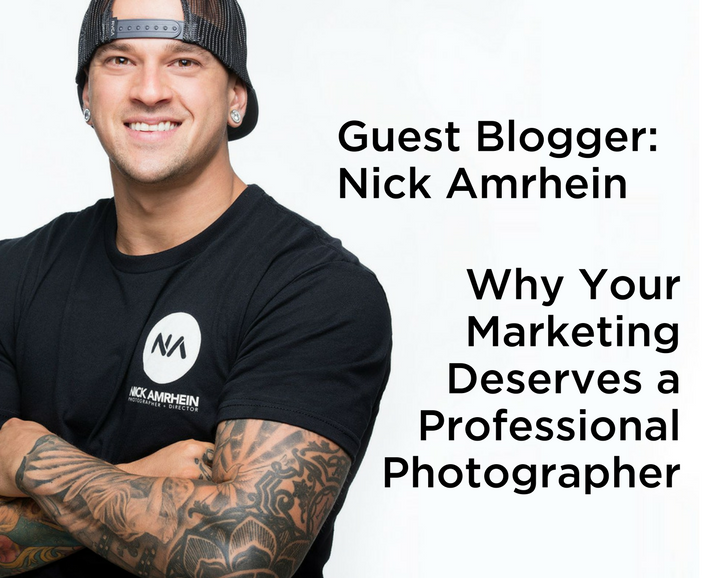 A Guest Blog Post: Nick Amrhein
When looking at a print ad, I can always spot an image purchased from a stock photo site. Of course, I have a professional's eye for photography. But I believe most people can see through the fakeness of stock imagery.
Compared to a photo created especially for your purpose, stock photos often lack any real connection to your marketing message. After all, you're trying to match an existing photo to your concept. Custom-shot photos, on the other hand, have a look and feel that you've conceived—and they make your branding stand out from the clutter.
To get a feel for how I create the perfect photo for my advertising clients, take a look at this short video:
If you're looking to hire a photographer, I recommend reviewing a few different portfolios. Is there someone's overall style that you like best? Are theirs the types of images you want representing your brand?
I also suggest checking out the photographers' experience. What are their professional backgrounds? What are their specialties? Who are their clients?
Pricing is important, of course. Photographers differ in how they charge, so you'll want to find someone whose pricing fits your particular budget.
Once you've selected someone who meets your criteria, the final step should be an in-person meeting. Ask yourself if the photographer is someone you could get along well with on a set or location shooting. If not, your voice might not be heard and, thus, not reflected in the final product.
Sure, selecting a stock photo from an online website might seem easier than commissioning a custom shot. But the extra effort will result in a one-of-a-kind photo that distinguishes your brand from your competitors.
Nick Amrhein is a professional photographer and director specializing in commercial and advertising photography and videos. Developing creative concepts and making post-productive magic excite him. He describes himself as heavily tattooed, a Harley rider, a skateboarder, and a Type 1 diabetic. Check out his amazing work at www.nickamrhein.com.