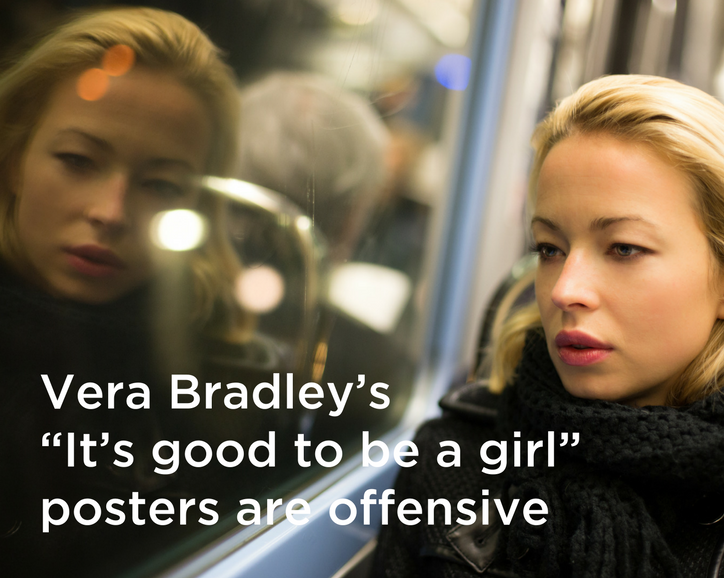 New York City subway riders got an early look at Vera Bradley's newest marketing campaign recently, and many women responded with disdain.
In separate posters appearing in subway cars throughout town, the handbag company lists various reasons why "It's good to be a girl." Apparently, in Vera Bradley's copywriting world, the benefits are downright sexist.
For example, there's "that moment when a gentleman offers you his seat." Or "multitasking like a champ by juggling coffee, makeup and emails."
The campaign, launched in August, features a series of videos along with the posters. It's the work of Minneapolis-based agency Mono, who Vera Bradley hired to survey women on the street and turn their responses into ads. Mono says the goal was to modernize the iconic brand.
But using outdated concepts of femininity ("We'll take a handbag over a briefcase any day," claims one poster) is hardly a modern-day approach.
And then there's the whole being a girl thing. For its part, the company defended the use of the word on its blog.
"Using the word 'girl' feels appropriate for embracing and celebrating femininity for women all over the world…It's a fun and rejuvenating celebration of femininity. It's inclusive of every age, race and geographic location."
Fusion reporter Marisa Kabas summed up the public's overall reaction to the posters: "They're enough to make any feminist wonder what we've been working towards all these years."
Vera Bradley says it is responding to negative reviews by updating the poster series with more empowering messages.