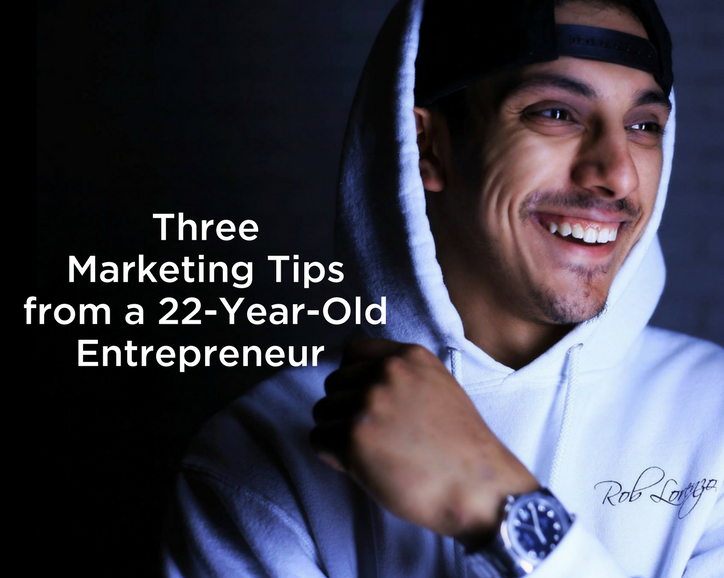 A Guest Blog Post: Rob Lorenzo
Everyone, it seems, is a marketing guru these days. I'm constantly hearing or reading advice on how to build a successful photography business. For years, well-meaning people have said to me, "Quit your job," as if everything would fall into place the second I left my nine to five. If only it could be that simple.
Let's face it: if there were one secret for how to promote yourself or your business, then everyone would probably be an entrepreneur. In reality, marketing success is not something that just happens. Promoting a small business is not glamorous; it's lonely and draining, and it involves hours and hours of work—usually seven days a week.
Being a 22-year-old photographer without a college degree certainly makes things harder. But I've taught myself a few things since beginning my business that I'd like to share. Hey, if everyone can be a marketing guru, why can't I be one?
1. Manage Your Time
Managing your time effectively goes beyond multitasking. It involves knowing exactly what you're trying to accomplish and how long you have—or don't have—to produce results.
I plan my days carefully and adhere to that plan. From 6:00 am to 2:30 pm every Monday through Friday, I'm at a job which provides me a steady income. On days when I don't have a photoshoot, I'm usually home by 3:00. Then I hit the gym from 3:30 to 4:30. From 5:00 pm to around midnight, I'm researching prospects. I begin by asking myself questions and finding the answers online. What companies should I be contacting? Who is a prospect's marketing manager? Where is the company located? What could I do for the company that would boost its brand?
People laugh when my girlfriend posts photos online showing me dozing during the day. In reality, sleeping is not part of my plan. So, if I have time to squeeze in a nap, I'm taking it.
At this stage in my business, I always work on weekends. If you're in startup mode and taking off weekends, achieving your objectives will take longer.
2. Be Patient
Managing your time requires patience—patience to manage your time over a long period, not just in the current day.
When I was 19 years old, I was attending college and interning with another local photographer. I was not interning as part of my college curriculum, mind you; I was interning to further develop my craft. Occasionally, interning interfered with my college class schedule. That's when I realized that to effectively run a business, I had to give it my full attention.
As much as I wanted to earn my degree, I decided to put college on hold. I dropped out during my second year to concentrate on promoting my photography business.
Achieving success in one area often requires the patience to postpone success in another.
3. Stand Out
Business success requires ongoing promotion. It's that simple. That's why companies large and small do it continuously. Social media and the internet provide endless opportunities.
Consider the National Basketball Association as an example. The NBA, like any other sports league, exists for its fans. The NBA is made up of the teams, the NBA Store, and the NBA Players Association. It also maintains "official" Instagram, Twitter, and Facebook accounts for each entity. Now let's simplify this. The three entities multiplied by the three social media outlets means nine opportunists to promote the NBA brand.
Brand your company across social media the way you want to be represented. The comments you post, the information you share, the content you produce—all should reflect what you ultimately want.
Stay True
You'll hear a lot of advice as you go about building your brand, from "quit your day job" to "you're not going to make it." But my experience is that achieving marketing and brand recognition cannot be summed up into one word or phrase.
But if you're passionate about your work, that will translate into success. And you'll find yourself in a job or situation that brings you happiness.
Rob Lorenzo is an Ohio-based photographer specializing in portraits, products, and events. His work includes photographing monumental sporting events and helping companies brand themselves internaly and externally. He makes it his mission to help clients stand out, by capturing and creating images that people remember. Visit his website to learn more about Rob and see his work.