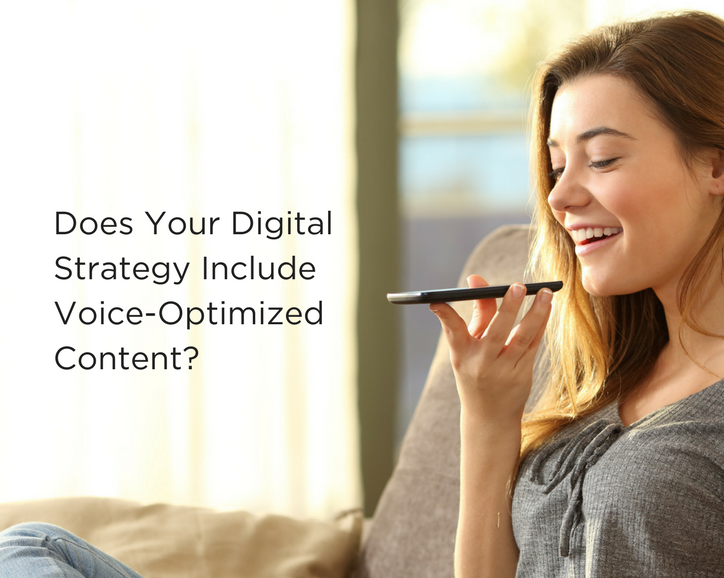 Not sure what voice-optimized content is? You could verbally ask Siri. Or Alexa. Or Google Assistant. Get the point?
Voice search allows us to search for online information by asking questions out loud, using our natural speaking language—rather than typing keywords or phrases. For example, when searching for a definition of voice-optimized content, it's likely you would simply type a phrase— such as "voice-optimized content"—into your favorite search engine. But you would probably ask your digital assistant a question using a complete sentence: "Siri, what is voice-optimized content?"
The artificial intelligence that powers voice search is constantly improving, most notably in its ability to determine a user's intent in asking a question. Building on a person's prior search history, digital assistants can make assumptions about intent and provide more appropriate answers.
So, in addition to optimizing your online content for traditional typed-keyword searches, you should also plan for the growth in voice searches. That means developing written content using conversational-style language—with answers to the questions your prospects are asking.
How soon will you need to be ready for voice-optimized content?
"Google says that 20 percent of its mobile queries are voice searches, and that number is only going to increase as consumers get used to asking Alexa, Siri, and their smart fridge for insight on what to buy," says Brett Farmiloe, CEO of digital marketing agency Markitors. "Marketers need to prepare by creating content that captures these types of searches."
Indeed, experts project that 50 percent of online searches will be voice-activated by 2020. What's more, 55 percent of teenagers and 41 percent of adults currently use voice search more than once a day.
If you need help planning for voice-optimized content, speak up. We'd be glad to help.